Home > Aoyama Gakuin Integrated Education > English-language education
Aoyama Gakuin Integrated Education
English-language education
English-language education Initiatives at Each School

Kindergarten
The kindergarten does not have a specific time allocated to English-language teaching in the method known as early education. Children develop their understanding of English and different cultures in a natural way by seeing picture books written in English in the library and meeting with visitors from abroad.

Elementary School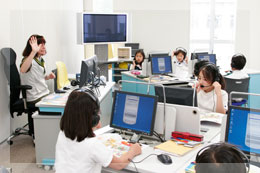 It was around 1946 when English-language education was started at the elementary school. At that time, foreign missionaries gave dynamic lessons to teach English through playing games, without using textbooks. Proceeding in that spirit, the elementary school today encourages students to actively listen to and speak English by developing an interest in the foreign culture behind the language, which results in learning to read and write English. The English-learning environment was further enhanced in academic year 2008 when an English class was introduced for first graders using the original textbook "SEED." For students in the fourth and higher grades, English is taught in small classes in a comprehensive manner using the Computer Assisted Language Learning (CALL) room.

Junior High School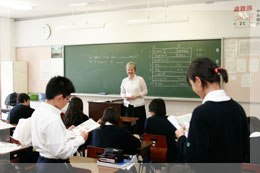 Teaching English as an international language requires cultivating and nurturing the spirit of our students to view the world at large and contribute to society beyond cultural and physical boundaries. With this in mind, English is taught as a means to function and flourish in our global society.  Lessons are presented to develop a good balance of reading, writing, listening and speaking skills.  Efforts are made to encourage and motivate our students to realize the importance of English and more importantly to develop a personal interest in English to support their future roles and endeavors in this world.
Senior High School
At senior high school, compulsory English classes are organized in three levels, according to the degree of language proficiency, so that each student can receive instruction suited to their academic ability. Some of the compulsory subjects in the first year and the third year are taught by native English speakers. English ExpressionⅡ(academic writing) for third-year students, in particular, is taught by a native English speaker in a unique manner using an original texts. In addition, a wide variety of courses are available, such as a class to discuss, summarize and make presentations about current topics, a class to dub movies into Japanese and a class to read literary works. While emphasizing the importance of mastering the basics, the school seeks to teach languages not as mere intellectual knowledge but as part of a lively culture.

Women's Junior College
An English-language education program of the English Literature Department titled "Coordinated English Program by Foreign Teachers" was selected as a "Support Program for Distinctive University Education" for 2003 by the Ministry of Education, Culture, Sports, Science and Technology. In this program, 11 native English speakers with diverse cultural backgrounds hold classes in the form of study topics, taking up subjects that are important for present-day Japan and/or the entire world. Through these classes, students develop the ability to read and write English as well as make presentations and participate in discussions in English. Only English is used in the classes, and all classes use the same self-developed teaching materials for each course. Teachers cooperate with each other in order to ensure that the examinations, homework, content and progress of the course are the same for all classes.

University
Under the university-wide common education system "Aoyama Standard," the English language is taught as a skill to enable a smooth transition to specialized courses. Each college and school gives specialized courses in English with a view to cultivating students' English-language proficiency and the international way of thinking that they require to play an active role in the international community. They also offer unique English-language education programs. The Department of English in the College of Literature introduces the "Integrated English Program" (IE Program) in the first and second years of study. In this program, classes are taught in English by mostly native English speakers in small classes organized according to academic level. At the School of International Politics, Economics and Communication, most classes are taught in English with an emphasis placed on oral communication classes. For the purpose of enhancing students' international communication ability, the School also seeks to comprehensively develop students' abilities in listening comprehension, oral expression, reading comprehension and composition using such topics as international issues and current events. The College of Science and Engineering has introduced an e-learning system for technical English and other classes and offers students an environment to learn at home in addition to taking classes at the university. It also provides students with opportunities to learn real-life English through a short overseas study trip which is independently organized by the College.