Home > Aoyama Gakuin Integrated Education > International exchange
Aoyama Gakuin Integrated Education
International exchange
International activities of Each school

Kindergarten
By using picture books in different languages and dolls of different skin colors, the kindergarten provides children with opportunities to "meet the world" in day-to-day childcare.
Children also participate in such activities as writing letters to the two foster children of the kindergarten sponsored through Child Fund Japan and selling cookies they baked in order to donate the proceeds to charity. In this way, the kindergarten gives importance to experiences in which children turn their attention to other children in the world.

Elementary School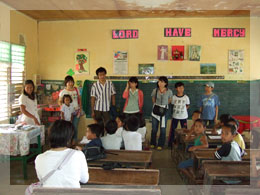 In April 1963, when overseas travel had not yet been liberalized in Japan, 21 students of Aoyama Gakuin Elementary School departed for the United States. This was the beginning of international exchanges by the elementary school.
Since 1994, the elementary school has been exchanging students with Good Shepherd School in Australia. At present, some sixth-graders are staying with families of students at the Australian school and engaging in various school activities such as English lessons, canoeing and horseback riding. Since 1992, the Amateur Radio Club has been engaged in exchange activities with Tianjin Hexi Children's Palace and the Shanghai Sports Bureau in China through mutual visits. Some children and an escorting teacher also participate in the Aoyama Gakuin CFJ (Child Fund Japan) program for visiting the Philippines which is conducted jointly with the junior high school and university.

Junior High School
The Junior High School places great importance in recognizing the cultural diversity which exists in our modern world today. Here lies the significance of multicultural awareness and understanding for our students through intercultural exchanges. Currently, the Junior High School has an exchange program with Immanuel Lutheran College in Brisbane, Australia and Ewha Women's University Junior High School in Seoul, South Korea. In addition, our students can participate in the Aoyama Gakuin Child Fund Japan program to visit the Philippines. Furthermore, there is an annual exchange day between our students and the students of Tokyo Korean School.
Senior High School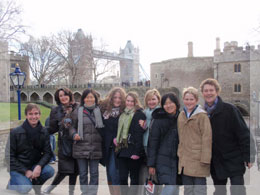 The senior high school offers a homestay program in a suburb of Toronto, Canada, every year during the summer vacation. The school enjoys sister school relationships with the Leys School, an English public school in Cambridge, and Liceo Legnani, an Italian state school in a suburb of Milan. Every year, several students participate in exchanges with these two schools under short-term student exchange programs.

Women's Junior College
The women's junior college currently has sister school relationships with Western Michigan University (Michigan), Cornell College (Iowa), and the College of Notre Dame of Maryland (Maryland) in the United States. Many students have transferred to these universities to be enrolled as third-year students. In recent years, fruitful exchange activities have been carried out by inviting students and teachers from sister schools in autumn and sending students and teachers to them in March.

University
For the purpose of facilitating academic and cultural exchanges with foreign universities and research institutes and promoting the improvement and development of education and research, the International Exchange Center plays a central role. The university has entered into student exchange agreements with about 60 foreign universities and carries out various exchange activities such as meetings between the Japanese and foreign students of Aoyama Gakuin University. The university's wide-ranging exchange activities also include the operation of a system of studying abroad while enrolled at Aoyama Gakuin University (studying at partner universities and designated universities) and an overseas training system, as well as scholarship systems relating to studying abroad.
Recently, the university has also been active in entering into exchange agreements with universities in Asian countries such as China and South Korea and encouraging an increase in privately financed students studying abroad.