Home > Introduction to Aoyama Gakuin > History of Aoyama Gakuin
Introduction to Aoyama Gakuin
History of Aoyama Gakuin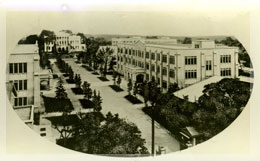 Aoyama Gakuin is a Christian school with Methodist roots.
It is one of the oldest schools in Japan, with a history of more than 130 years, and it has held fast to its Christian education.
During that time there have been many hardships.
Each time, all teachers and staff members have worked hard to achieve the growth that we see today. The present Aoyama Gakuin was formed by combining the previous Girls' and Boys' Schools in 1927.
The university was established in 1949, turning Aoyama into an integrated campus encompassing the kindergarten through the graduate school.